Community Projects
The Middlebury Garden Club is dedicated to providing service to the community. For information about these ongoing community projects or membership, contact the club at middleburygc@gmail.com


Sheldon Museum Gardens
Throughout the gardening year, club members tend the museum's gardens. Weekly sessions are scheduled to water, weed and maintain the beautiful flower gardens. The club provides plants and bulbs as they are needed. Additionally members may sign up for spring and fall plantings, for "garden parties" complete with refreshments, or special one-time assignments. Gardening sessions are typically a morning hour commitment in lovely surroundings with good company, while weekly watering and weeding can be done at a member's convenience.
---


Ilsley Library Flower Arrangements
Each month a club member provides an arrangement to grace the main room at Middlebury's public library. This is an opportunity for members to use their skills at flower arranging, forcing bulbs, or creating a dry arrangement for the enjoyment of library-goers.
Helen Porter Rehabilitation Center
Each year members gather in August to create individual tray-top flower arrangements with the residents who wish to participate. Members provide the flowers and foliage used in the arrangements. They deliver them to the rooms at the Helen Porter Healthcare and Rehabilitation Center. The social interactions in this afternoon session with residents are a high point of this community endeavor.


Mary Hogan Elementary School Junior Flower Show
Middlebury's Mary Hogan Elementary School holds a student "flower" show each spring. Club members teach classes in using natural materials, even vegetables, to interpret a theme. The contest entries are then judged by club members. The students are extraordinarily creative and the designs are clever. It's a wonderful opportunity for gardeners to inspire the next generation.
---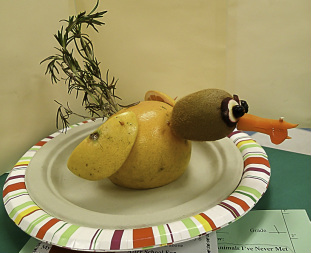 Holiday Decorating at Ilsley Library
In early December, club members spend a morning decorating Middlebury's public library to celebrate the holiday season. Materials are provided by the club. The decorating gives members a chance to use their creative skills or to learn from the many talented people who participate.
---


Roadside Garden Awards
To encourage and recognize the efforts of all who love gardening but are not club members, the club receives nominations for innovative or outstanding gardens, window boxes or other plant displays. Nominated gardens must be visible from the streets and roads of Addison County and be tended by an individual outside of club membership, a business, or an organization. The club commends those gardens and publicizes their award-winning efforts.